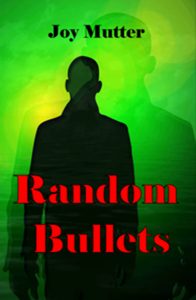 About Random Bullets by Joy Mutter
After shooting and killing his nephew, a gunman runs wild in a London park. What drives Edward to commit such heinous acts? Who will survive yet another of his moments of madness? Set in Jersey, Cornwall, Manchester and London, Random Bullets is a contemporary thriller with a paranormal twist. This book is the author's personal favourite.
Random Bullets is available on Amazon in both paperback and Kindle editions.
Buy the book, and follow the author on social media:
Learn more about the writer. Visit the Author's Website.
Get This Thriller Book From Amazon.
Visit the Author's Facebook Fan Page.
Visit the Author's Twitter page.

Author Bio:
I have written and published eight books since 2007. In 2015, I decided to publish them all on Amazon in both paperback and Kindle editions. Some are also in audiobook versions, narrated by me. My first three books are memoirs and form the Mug Trilogy. Potholes and Magic Carpets is a character-led novel and Random Bullets is a contemporary thriller with a paranormal twist. I have also published a non-fiction book, Living with Postcards which can also be found on Amazon.
In February 2016, I published a baker's dozen of my short stories called Her demonic Angel written in different genres. Hopefully there will be something for everyone to enjoy. Her demonic Angel is available in paperback and Kindle as well as an audiobook that I narrated myself. The audiobook is for sale on Amazon, Audible and also on iTunes.
In 2016, I published Kindle, paperback and audiobook editions of another contemporary thriller with a fantasy twist called The Hostile. I also intend making audiobook editions of at least a couple more of my fiction books in 2016. It appears that this year will be as busy and productive year for me as 2015 was. However, writing is a profession that I am passionate about and so it won't feel at all like work.
I would love to hear what you think of all of my books and would greatly appreciate a review from you on Amazon and Goodreads.
I was born in Jersey in the Channel Islands, too many decades ago to mention. I went by the almost impossible to pronounce name of Joy Houiellebecq until my marriage in 1984. My profession was graphic design for twenty years after gaining a Graphic Design Degree in Coventry. I lived briefly in London before moving to Kent for over twenty years. During my time in Kent, I worked as a graphic designer and became a wife, mother and divorcee.
After developing a chronic back condition in 2012, not wishing to claim benefits I took the bold, some might say foolhardy action of selling my house in Kent and moving to the North of England in order to help fund my long-held ambition of becoming a full-time published author. I now spend most of my days, including weekends and holidays, writing, designing and publishing my books in various formats, including audiobooks.