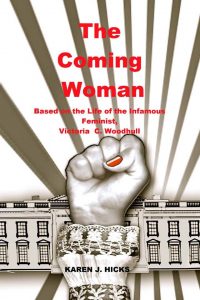 About THE COMING WOMAN by Karen J Hicks
On April 2, 1870, readers of the New York Herald open their newspapers to an astonishing headline: "The Coming Woman, Victoria C. Woodhull, to race for the White House!" And so begins the story of power, politics, promiscuity, and persecution surrounding one of the most fascinating and controversial women in American history.
Reactions to Victoria's announcement are mostly amused. After all, women can't even vote! But she and her sister already mix it up with the men on Wall Street, running the first woman-owned and run brokerage firm, and now she launches the first successful mainstream newspaper to be run by a woman. When she becomes the first woman to enter the bastion of male dominance, the House Judiciary Committee, her argument that the 14th and 15th Amendments already give women the vote stuns the men and electrifies the women!
As her power and influence grow, the male-dominated media attacks. Victoria counters the assaults by becoming bolder, urging women to revolt—even to secede—if they are not recognized as citizens. Such radical views, combined with her political ambitions, stir up controversy, but she will not be deterred.
On May 10, 1872, the Equal Rights Party officially nominates her as its Presidential candidate, with former-slave-turned-statesman Frederick Douglass as her V.P. If she thought she was persecuted before, it is nothing compared to what follows. Refusing to give up, she fights back the only way she knows how, landing herself in jail on election day and provoking the longest, most sensational civil trial in U.S. history.
Buy the book, and follow the author on social media:
Learn more about the writer. Visit the Author's Website.
Get This Fiction Book From Amazon.
Visit the Author's Facebook Fan Page.
Visit the Author's Twitter page.

Author Bio:
Karen Hicks served for several years as in-house editor for author Steve Allen, wrote screenplays for various production companies and ghost-wrote a travel book for the Auto Association of Great Britain. She worked with Dove Audio, Inc., abridging books for recording and was an instructor for the American Film Institute's scriptwriters' program. She also wrote the official bio of Richard Pryor, which appears on his website.
THE COMING WOMAN is her second book. Her first was THE TAO OF AN UNCLUTTERED LIFE, which featured ten steps to being organized in body, mind and spirit. She is currently working on her third.
Now retired, Karen lives in Henderson, Nevada.