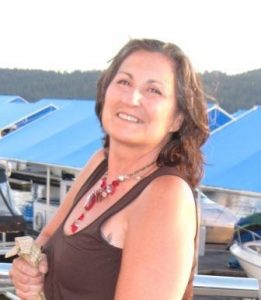 Featured Interview With T Hammond
Tell us a little about yourself. Where were you raised? Where do you live now?
Born in Spokane WA, I was raised in Concord CA. I've lived all over the west coast and spend four years in Germany. I started writing at age 53 when I became retired due to arthritis. I now live in the middle of the woods in Chehalis WA where the sounds of owls, coyotes, and frogs soothe me to sleep, and I wake up to deer, rabbits, and the occasional skunk in my garden. I am a German shepherd (GSD) owner, and this breed is highlighted in my Team Re series (which features a GSD who communicated mentally with his blind owner). I once owned an exotic freshwater fish store, so it's no surprise I have a tank of unusual fish- clown loaches (8), Delhezi bichir, oscar, and synodonyis multipunctatis catfish.
At what age did you realize your fascination with books? When did you start writing?
I've always been a reader– I can't sit down without reading something, whether it's my milk carton or my eReader. Until retirement, I had no interest in writing anything other than the policy and procedure manuals I'd created when in the course of my jobs, but a challenge to try the Nanowrimo sparked my creativity.
Who are your favorite authors to read? What is your favorite genre to read. Who Inspires you in your writings?
I read multiple genres: Urban Fantasy, Paranormal (Romance, thrillers, etc), Police or military romance, and thrillers. My favorite authors range from Ayn Rand to Jasinda Wilder to Tom Clancy.
Tell us a little about your latest book?
I'm actually working on four projects. I'm almost finished with the first book in an Urban fantasy trilogy, Posse: Legends. I'm writing a short story which ties in with my offshoot series from Team Red, called the Wild Horses series, featuring Frost– a Team Red favorite and one of the security team for the Team Red heroine. And lastly, I am writing a LGBT short story series under a pseudonym. Team Red fans are asking for a book 7, although I planned to end the series with 6 books– but I have some ideas that could gel into another book for early 2017.
Connect with the Author on their Websites and Social media profiles