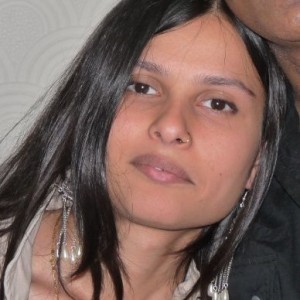 Featured Interview With Nagwa Malik
Tell us a little about yourself. Where were you raised? Where do you live now?
I was born and raised in Nigeria where I spent my childhood and then was shifted to Pakistan by my parents. When I look back I feel extremely lucky to have had the kind of life I did: being born and brought up amongst people of various cultures has made me immune to racism, religious discrimination and other discriminations that I find people very easily involved in. For that reason I sometimes feel we should all be raised that way. It may teach people the fact that people are not different at all despite their cultures and their religions. It is common sense. However, having lived in Europe I have found that discrimination exists on a high level there and probably in most of the West.
I may be a misfit in Pakistan (as we all are when we shift to countries we were not born in- see, so much is the same all over the world) but one has to admit: there is no country like Pakistan. It is practically a mini-continent from the climate to the geography to the languages of each region within this small country. And the people are indeed very friendly, even nosy! Extremely generous, hospitable and especially the people of my city, Lahore, are known for their love for food and fun and this city comes alive at night. People talk of other cities that come to life at night, in my experience they do not. I mean, take London, for example- the only thing that comes to life are the pubs and the clubs. Or maybe the movies. But in Pakistan, especially in Lahore, shopping, eating, hanging out and taking walks and long drives all begin in the evening and go well into the night. Also Pakistan is a country of ancient cultures and the Indus Civilisation. It is a country of vibrant history. So, with my childhood in Nigeria that has a rich history and culture of its own, and in Pakistan, I feel very lucky to have embedded in me this diversity: I am an international soul 🙂
Pets! Oh my God, yes! You name it we've had it. Except for a turtle. Not a domesticated one anyway. I remember my playgroup teacher in Nigeria had a giant turtle. She would crawl over to open and close the door! Never forgot her- the turtle I mean. Never forgot my teacher either, she was a family friend and had opened the playgroup in her house I think. Now my nephews are keeping up the family tradition of birds and chickens and dogs and fish. We used to have ducks, too- and geese. But the truth is the older I get the more I have an aversion to keeping pets. I believe that animals should be free and in their natural habitat unless you have a big farm and they can move around everywhere- that is fine. But normally, no. I love animals, and I am honoured that they like me, too. I keep on telling my nephews that they must regard keeping pets as having children. I prefer the concept of farms and safari zoos.
At what age did you realize your fascination with books? When did you start writing?
We've always read, my sister and I. We started schooling early, you see. I started walking and talking pretty early. And my parents were avid readers. So it was only natural for us to begin reading, too. My dad would take us to this book shop and we were told to buy any kind and as many. We got comic books (and I say the word with pride. I know people like to call them graphic novels, but to us they were comic books, and what's wrong with that?), our first series was the ladybird series "Peter and Jane" and when we were off to bed, we would tell each other stories, new stories about Peter and Jane. Come to think of it this kind of story making is now very popular, isn't it? Fan-fiction. Spinning new storylines from the original characters. I would end up telling more stories than my sister. She kept on asking me to add more.
The of course we went on to Agatha Christie, Franklin.W.Dixon, the works. Enid Blyton. All the adventure books you can think of.
But interestingly, I did not begin writing because of the writers or the books I read. I began writing because I loved the formation of words. Putting down words on paper. The calligraphy. That is what made me start writing. I was eleven then, and I had so much to write that I would work on three books simultaneously.
Who are your favorite authors to read? What is your favorite genre to read. Who Inspires you in your writings?
There are many. Christie is my all time favourite. I read Michael Connelly and Patterson. I have read classics because I was a literature student, I have read Russian, German, Nigerian, Pakistani, Persian, American, English, French and other writers- I raided my father's library. And what I studied of religion I raided largely my mother's library. I was done with their stuff when I was a teenager. So yes, I have many authors that I can say I liked. Margret Atwood is one of them. But, to be honest, what inspires me to write are people around me, societies, situations. There are two things I am extremely good at: people and situations. I have never read them wrong, not yet any way.
So, I tried writing adventures for kids, and I did write them and published one which was quite popular, but I found that I was more of a personal-interest kind of a writer. But thanks to my teacher, Phil, at script-writing class, I finally found my voice in my favourite genre: thriller/mystery. I never could seem to write this genre before, and it is my favourite. But he pushed me and I was so glad that I could do it. Thus my latest work.
Tell us a little about your latest book?
"THE MIST" is a two-part series and is a political-spy thriller. In this series I have tried to tell the other side of the story, away from the stereotypes on what is going on in the world today. We follow our Pakistani spy Tanya as she embarks on a two-fold mission to find and disable the root cause behind the ongoing terrorism and then to steer Pakistan clear of it all. Pakistan being in a strategically and geographically unique location, it faces dangers of destabilisation from various forces, and then there is the corruption within, traitors working with the enemies against Pakistan itself.
Tanya has to grudgingly accept help from her own agency as well as her childhood friend, now CIA agent, Burke, in order to bring the truth out. I think her relationship with Burke is something that is unique: both from the same yet totally different worlds, both suspicious and yet with a strong childhood bond- meeting each other after all these years and working on a highly intense mission with all sorts of agencies involved- similarly her relationship with her fellow agents- the way they work…I think that is a very personal and interesting factor in the story.
In this world of intrigue, legends and myths, we discover the many cultures, the many languages and I have written this series in at least three English dialects, both in narration and in dialogue, to give that authentic flavour.
Connect with the Author on their Websites and Social media profiles