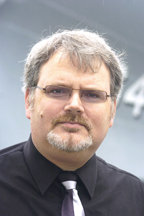 Featured Interview With Mark Piggott
Tell us a little about yourself. Where were you raised? Where do you live now?
I am originally from Phillipsburg, NJ, though I was a military brat and grew up all around the country. I joined the U.S. Navy in 1983 and served for 23 years until I retired in 2006 and settled in Newport News, Va. Now, with all three of my children graduating college, it's just my wife and I and our dog, Sully, whose a Westie. I am a proud geek, with my comic book collection, Star Trek memorabilia, and Doctor Who collectables.
At what age did you realize your fascination with books? When did you start writing?
I have always loved books, though I started with comic books and graphic novels before progressing into novels. I started writing myself in the early 2000s. I played a lot of Dungeons and Dragons in my early days as a Sailor to help pass the time during long deployments. This led me to have a recurring dream about me and my family lost on an island filled with magical creatures. During my last deployment in 2001, I started to write down my dream and, from that, developed the FOREVER AVALON series. As soon as I finished the book, I stopped having the dream, as if it was meant to be.
Who are your favorite authors to read? What is your favorite genre to read. Who Inspires you in your writings?
My favorite authors include Terry Brooks, Harry Turtledove, J.R.R. Tolkien, and Timothy Zahn. I prefer science fiction and fantasy, but historical and alternative history novels have been a new love for me. I love how author Harry Turtledove takes one historical event, changes it and takes readers through the cascading alternative history. In my writing, Tolkien, Brooks, and C.S. Lewis are my guideposts in writing fantasy.
Tell us a little about your latest book?
The FOREVER AVALON series is a spin on the Arthurian legend. It's about a sailor and his family who go through a storm at sea and end up on the island of Avalon, where time stands still as a world of medieval fantasy. The island is ruled by the descendants of King Arthur and Guinevere. The sailor discovers he is a descendant of Sir Percival, the last of the original Knights of the Round Table. He assumes his place as the Gil-Gamesh, champion and Knight Eternal of Avalon. In my second book in the series, THE DARK TIDES, the daughter of the Gil-Gamesh is possessed by the spirit of Morgana le Fey. She threatens to unleash the Dark Tides, a spell that can destroy all magic unless he recovers the Broach of Lilith. With the broach, Morgana can resurrect her body and rule Avalon. I am currently finishing up the third book in the series, THE OUTLANDER WAR.
Connect with the Author on their Websites and Social media profiles