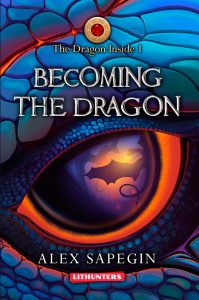 About Becoming the Dragon by Alex Sapegin
"Enter the mind of the dragon. Join Andy Kerimov, small-town teenager and lightning-strike survivor, as he is unwittingly transported to the faraway realm of Ilanta. There he encounters both human and fantastical beings, to ensure his survival, he takes part in an ancient ritual to become a dragon and ultimately he'll find himself a key player in an interplanetary war. With two hearts beating in a freshly scale-clad chest, and two mighty wings on his back, will Andy be able to hold onto his humanity while preparing to help rescue his new world from the brink of destruction?
"
Buy the book, and follow the author on social media:
Learn more about the writer. Visit the Author's Website.
Get This Fantasy Book From Amazon.
Visit the Author's Facebook Fan Page.
Visit the Author's Twitter page.

Author Bio:
""Neither a Tolstoy nor a Chekhov", sci-fi and fantasy author Alex Sapegin always loved the freedoms afforded by the fantasy genre and has been an admirer of dragon might ever since he first read of Smaug's sorry but just end.
A special flair for storytelling emerged in his youth, when his peers would eagerly listen to his action-packed stories with their many twists and turns. Naturally, it was only a matter of time before his friends and family persuaded him to put pen to paper, which proved to be a life-changing decision.
His creative energy has since known no bounds and thus Alex has carved a unique path, in worlds both real and imagined. An electrical engineer by education, he has enjoyed an extensive career in tunnel construction and the railway industry, whilst always finding time for his joy of writing.
Alex Sapegin launched onto the Russian sci-fi and fantasy scene in 2010 with his first epic fantasy novel Becoming the Dragon, now available in English, German and Spanish, and was met with instant success in his native Russia, the post-Soviet Union and Eastern European countries. Upon reaching bestseller status, the tale was shortly followed by four more instalments in the series: Wings On My Back, A Cruel Tale, Crown of Horns and Home At Last.
Alex Sapegin is also the author of The Clash, The Pet Story and Diaries of the Morph. He lives in Khabarovsk in the Russian Far East with his wife, two children, pet parakeet and overconfident tomcat and, when not crafting new worlds and adventures, he enjoys spending time with his children, skating and fishing.