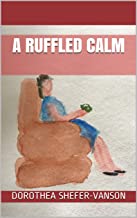 A Ruffled Calm by Dorothea Shefer-Vanson
An eccentric woman imposes herself on a family living in Jerusalem at a time of disturbances in the Old City. Their orderly way of life is disrupted, bringing Tamar, devoted wife and mother, to the verge of a breakdown. Her husband, Reuben, does his best to keep things on an even keel but is distracted by his obsession with his attractive young secretary. Matters come to a head when Tamar's boss absconds with her colleague and the firm's funds, and she finds Reuben in an compromising situation.
Buy the book, and follow the author on social media:
Learn more about the writer. Visit the Author's Website.
Get This Fiction Book From Amazon.

Author Bio:
Dorothea Shefer-Vanson was born and educated in England and now lives in Israel. Her five previous books have been well-received and are also available on Amazon. She is married, has three children, eight grandchildren and one grand-dog. Her hobbies are reading, writing, painting, and gardening.