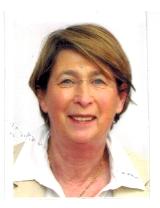 Featured Interview With Dorothea Shefer-Vanson
Tell us a little about yourself. Where were you raised? Where do you live now?
I was born and brought up in London, England, to parents who were refugees from Germany. As a child I was a voracious reader, seeking escape from mundane reality in the wonderful world of books. I swallowed everything I could get my hands on — schoolgirl stories, Enid Blyton books, even adult novels (which I didn't really understand), and found heaven in the charming world of Market Blandings, i.e., the works of P.G. Wodehouse. I also enjoyed J.B.Priestley, H.G. Wells, and other sci-fi books of the 1940s and 1950s, though am not enamoured of the current batch of fantasy novels. I now live in Israel, have one husband, three children and eight grandchildren.
At what age did you realize your fascination with books? When did you start writing?
As soon as I could master the alphabet I was always to be found with my nose in a book. I would visit my former playschool and read to the new batch of little ones. I started writing not long afterwards, but never really got very far with any of the books I started. I kept notebooks and diaries all through my teenage and early adult years, was always praised for my writing abilities, but only really got to grips with writing a novel when I spent a year in Nebraska during my husband's post-Ph.D. sabbatical and joined a writing class for lack of anything better to do. Since then I've never stopped and have self-published three novels to date.
Who are your favorite authors to read? What is your favorite genre to read. Who Inspires you in your writings?
I'm amazed (and apalled) at the masses of books that get published about vampires, ghosts, fantasy and sci-fi, and I know that it is simply beyond me to find any interest in those topics. I write about real people in realistic situations, whether contemporary or in the past, and that is what I like to read about. There is a lot of drama and interest to be found in everyday life. In addition, I like anything that is humourous, and that kind of book will always get my vote (see what I wrote earlier about P.G. Wodehouse).
Tell us a little about your latest book?
The last book I published, 'Levi Koenig, A Contemporary King Lear,' describes what happens when the health of an elderly father takes a turn for the worse and how his three daughters deal with the situation. Each character sees the situation in a different way, and of course there is also plenty of competition between the three. It's a case of filial devotion meets sibling rivalry, further exacerbated by the efforts (and thoughts) of the Filipina helper and her rather mangled English, providing an element of humour to the book. I spent about a year writing the book and another two years editing and rewriting it. I try to be pedantic about grammar, syntax and correct English, and my long experience as a professional translator (Hebrew to English) and editor have helped me in this.
Connect with the Author on their Websites and Social media profiles